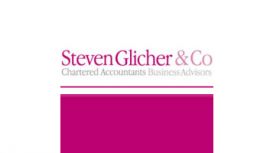 Choosing an accountant is one of the most important business decisions you will ever make, so it's imperative that you make the perfect choice. Steven Glicher & Co leading Stockport accountants is precisely that.
Steven Glicher & Co isn't just an accountancy practice: we're definitely more than just accountants. We provide accounting support with a difference – offering a range of services backed up by a wealth of knowledge and expertise which we use to provide our clients with a comprehensive service.
Take a look around our website and you'll immediately see what makes us different: very few accountants offer access to so many free help sheets and useful resources. We understand that there's no such thing as a 'one-size-fits-all' solution in accountancy. Each client is different and therefore what's needed is a specific and tailored approach to every client's business and personal financial needs.
We're proud to say that when you work with us, what you see is definitely what you get: no gimmicks and certainly no smart talk. What you get from Steven Glicher is a professional service, individual attention, specialist advice in plain English, a timely service, fixed fees and guaranteed work, all of which are delivered with a smile and a sense of humour.
So whether you're looking for help to sort out your tax affairs, are starting in business and are looking for advice, want help to grow your business, or just need a friendly, efficient and proactive accountant, then look no further than Steven Glicher & Co Stockport accountants. With years of experience in audit, accounts, tax, business development and corporate finance, Steven Glicher & Co are the accountants of choice in Cheshire and the surrounding area.
---
Contact Details
Steven Glicher & Co Accountants
Eden Point, Three Acres Lane, Cheadle Hulme, Cheshire
Stockport, Greater Manchester
SK8 6RL
Larger Map
Get Directions
Services

VAT Returns:
Compliance with VAT is becoming ever more complex. In recent years, HMRC has increased the level of intensity of their investigations – which makes it all the more important that VAT returns are completed correctly.
Self-Assessment Tax Returns:
Completing a self-assessment tax return can be an arduous and lengthy process – and whatever you submit to HMRC has to be one hundred percent accurate.
For every new business conceived this year, it is likely that only 43% will still be going in a year's time – and only 20% will remain in 5 years' time.
Good bookkeeping is a crucial element in the upkeep of any business, as maintaining an accurate record of financial deposits and outgoings in a business and keeping on top of things on a regular basis makes financial forecasting and end of year finalisation much clearer, simpler tasks.
Running your own business was a pleasure until the day you took on your first employee and became an unpaid tax collector. This is when you found out what red tape was all about. Payroll is an important and integral part of running a business – without contented employees, things can soon sour and issues quickly develop.
Management Accounts and Information:
All businesses can benefit from quality management information on which to make the right decisions, but only a minority of businesses can afford a dedicated finance function. We can prepare your management accounts on a monthly or quarterly basis in an efficient and cost effective way, in order to help you track how your business is performing and identify strengths and weaknesses in good time.
Smart software and online-based systems have revolutionised the way we live our lives and run our businesses – dominating every facet of everyday life and rapidly replacing paper databases with slick, simple to use interfaces.
Setting up a new limited company? In need of fast paperwork completion? We can set up a limited company for you within one working day so you can get started quickly and correctly. We complement this service with helpful nuggets of insider knowledge – for example, if you open a bank account with Barclays, then you can get £40 cash back.
Reviews and Ratings
We do not have any reviews about Steven Glicher & Co Accountants available right now.