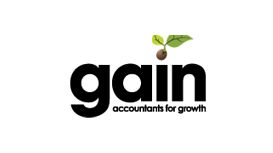 Whatever your opinion or perception of accountants in Cornwall is - we're going to change them. Based just outside Truro we pride ourselves on being innovative, proactive, fun, straight talking and with an approach that is geared to your success. Key to our approach is understanding your business and working with you to drive it forward. And that's where we make the big difference. We'll tell you in plain English just how your business is performing.
After that we'll provide the type of support, insight, knowledge and service that will help you succeed. At gain we listen to both your business and personal goals and devise a tailor-made strategy to help you achieve them. We provide a full range range of accounting and business growth services that will not only help you measure your successes, but help deal with any issues that arise and plan for future growth and development.
---
Reviews and Ratings
Before we used Gain we didn't have any clue as to where our business was going. They worked with us to create forecasts and targets which have given our staff something to work to and has given us back control of our business. We also have regular meetings with the team to check our progress and to see what we could be doing better. As a result of the work with Gain, the business has totally improved. We now know what we are doing and what we are aiming for. Before we started with Gain we were using our maximum overdraft, now we have surplus cash in our account. I would recommend Gain to anyone who wants to have control of their business and know what's going on.