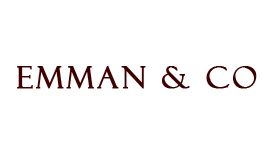 We are a full-service accounting firm provides traditional accounting and financial services, along with management and tax compliance services, for individuals, small to medium-sized closely held businesses and corporations.
Our firm provides the client with the necessary tools to make informed business decisions for their current and long term goals. We greatly encourage interactive discussions with our clients. Our clients also have peace of mind knowing that their interests will be fully defended before the HMRC.
Our main aim is to provide a personalised yet professional service, capturing maximum tax benefits, within the parameters of the legal framework. The foundation of our success has been our commitment to serving clients as though their businesses are our own.
---
Reviews and Ratings
For business owners like us who are 'numerically challenged' the financial part of starting a business can be a daunting experience. I got lucky. Emmanuel has been a sure and steady guide through putting the business plan together, corporate applications, and budgets. Drawing on his extensive knowledge and highly professional ethic, Emmanuel has provided a skillful and supportive climate in which to grow a new business.What Emmanuel provides is in the nature of a partnership, and one could not ask for much more.